Plano is conveniently located within easy access to two airports. Dallas Love Field and the Dallas/Fort Worth International Airport offer several major airline options for travel within the United States or from abroad.
For driving directions, please go here.
American Airlines: 800.433.7300 or 800.252.4444
Airtran Airways: 800.247.8726
Continental Airlines: 800.525.0280
United Airlines: 800.241.6522
US Airways: 800.241.6522
Southwest Airlines: 800.533.1222
8008 Cedar Springs Road, LB 16
Dallas, Texas 75235
214.670.6075
Dallas Love Field is owned and operated by the City of Dallas and offers service to 19 U.S. destinations. The major air carrier, Southwest Airlines, offers 121 direct flights daily to destinations throughout Texas, Louisiana, Arkansas, Oklahoma, New Mexico, Mississippi, Alabama, Missouri and Kansas. Express Jet offers 11 flights daily to Houston.
3200 East Airfield Drive
DFW Airport, TX 75261
214.574 .8888
The DFW Airport serves 153 cities worldwide, including a total of 116 non-stop domestic destinations and 37 non-stop and direct international destinations. DFW airport also has five low-fare carriers from which to choose, offering service to major destinations throughout the U.S.
Below, please find information about traveling in Plano as well as resources for airport shuttle services, public transportation, car rental and taxi service.
For DRIVING DIRECTIONS to Texas Back Institute, go here.
Airport Shuttle Services (available from both airports)
Super Shuttle: 817.329.2000 or 800.BLUE.VAN
City Shuttle: 817.267.5150 or 214.760.1998
Yellow Checker Shuttle: 214.841.1900
Driving in Plano
Plano can most easily be accessed from the north or south from several major highway systems. Plano has three major thoroughfares: the Dallas North Tollway (toll charges do apply), State Highway 75 (Central Expressway) and Preston Road.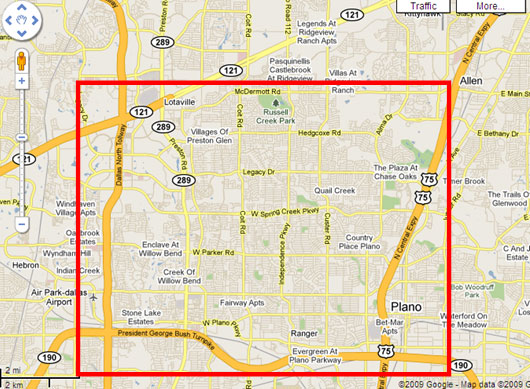 Taxi services are available. It is approximately $55 to Plano from the DFW Airport.
Luxury Limousines & Car Services
Dallas Area Rapid Transit (DART) provides local bus services throughout the DFW metroplex.